So here is wat happened this week on My Magical Adventures!
I didn't post a top three Friday because I was sick, so I spent most of the day in bed.
On Monday I told you about what I believe are the funniest animals in a Disney movie. If you want to read more about my funniest animals just click the image below.
As always I participated in the Tiggerific bloghop......or bounce on Tuesday!
And of course on Wednesday I participated in the Wordless Wednesday. This Wednesday I posted pictures of the RC Racer Ride in Disney studios. If you want to see the pictures I posted on my Wordless Wednesday post just click on the picture below.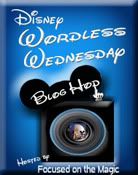 On Thursday I joined the Disney Blog hop, this week we got the chance to put our favourite blogs in a special spotlight. If you want to read which blogs I picked click
here
.
I didn't post a top three Friday this week because I was really sick on friday and I was asleep most of the time.
This week I also posted some new tips for what you should do in Disneyland Paris. I made a countdown to my next Disneyland paris and while I'm counting down I'm sharing tips with you.
So that was it for this week, have a magical week everyone!