So here is wat happened this week on My Magical Adventures!
On Monday I told you about my favourite soundtrack: The nightmare before christmas. If you want to read more about my favourite soundtrack just click the image below.
As always I participated in the Tiggerific bloghop......or bounce on Tuesday! And the Wordless Wednesday on Wednesday. This Wednesday I posted pictures of the Once upon a dream parade. If you want to see the pictures I posted on my Wordless Wednesday post just click on the picture below.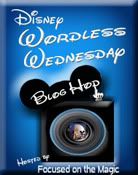 On friday I started my new series of posts Friday Favourites. My first post was about my top three Disney Princesses so click on the image below to see which princesses made it in my top three.
And of course I started my countdown to my Disneyland Paris Halloween vacation, every day I post a tip on what you should do in Disneyland Paris.
So that was it for this week, have a magical week everyone!
I just wanted to tell you all that I'll be guest hosting the Tiggerific bloghop....or bounce this week! I'm really excited about that!